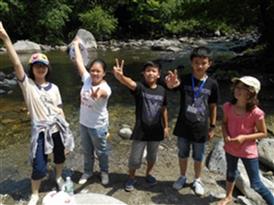 Exploring the beauty of Vermont on a summer day.
In partnership with SPIRAL International, both Montpelier High School and Northfield Middle/High School hosted 67 middle and high school students and five escort teachers from Chongqing, China for a total of 4 weeks of cultural and English immersion programs plus home stay.

Students learned about Abenaki culture from Patty Manning and family.
American peer mentors participated along with the Chinese students in morning English classes focused on cultural sharing and communication taught by ELL teacher Michele Tofel Murray.  Afternoons included field trips, activities and guest speakers focused on the theme for the day.  The Chinese students stayed with local families who took the students biking, boating, hiking and swimming in the Green Mountains and shared their family routines, favorite foods, personal histories and most importantly, their love.  Sandra Drown and her family have hosted for over three years and said that the experience "enriches our lives; we really enjoy it and it's awesome!"

Students prepared questions and interviewed area residents about their lives.
Program Coordinator Sam Hagen said that the students from China were deeply moved by their experience and described their time here as amazing and really wonderful.  Signe Goddard, peer ambassador in Montpelier said, "The Spiral Exchange Camp in Montpelier was an extremely rewarding experience, not only for the Chinese exchange students, but for the peer mentors as well. I realized once I met the Chinese students that Americans often know very little about other countries, especially the people who live there. I feel so grateful to have had the opportunity to connect with Chinese students my age and learn about another culture. I made wonderful friends and realized that even though the Chinese students live a very different life, we are all people and language is not a barrier that keeps us apart."  Annika Clark, a peer ambassador from Northfield, added, "This has been the best time I've had in many years.  It was marvelous making new friends.  It was a great experience learning about China and I have a better understanding of the world and how similar people are even in a different part of the world.  I believe this will help me in the future, in school and in jobs."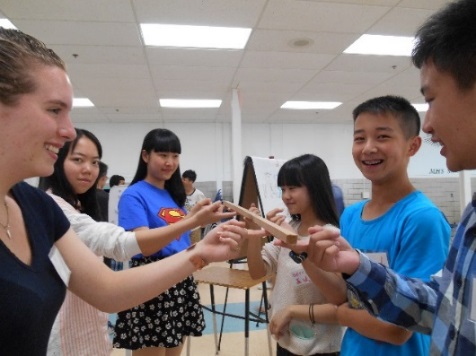 ​Students participated in team building challenges.