We offer customized, educational travel for student and educator groups to international destinations such as Malaysia, Singapore, Taiwan and Kenya. Explore culture, enhance language learning, and forge personal and professional relationships on our purposeful tours.
Culture tours for students combine fun sightseeing with immersive activities that provide an authentic experience with the local culture. Students gain a deeper understanding of the world on these life-enriching trips.
Professional development tours give American educators the opportunity for professional exchanges with educators at international partner schools.
NEW: Service learning trips to Malaysia and Singapore are now available.
Culture Tours
SAMPLE ITINERARY: Taiwan History & Culture Tour
Explore Taiwan's rich cultural and spiritual heritage, stunning scenery, and amazing food. Tour some of its historic monuments and temples, learn about its education system, and spend time with local students and educators.
Tour Highlights:
Taipei
Taiwan's vibrant capital city is yours to discover. There are incredible buildings from skyscrapers to temples, bustling night markets, mouthwatering street foods and impressive museums and monuments.
Hualien
Home of Taroko Gorge, Taiwan's most popular tourist destination. This area combines stunning scenery with wonderful bridges, shrines and temples.
Kenting
This southern area is famous for its national parkland, with its sandy beaches and lighthouse. The nearby Taiwan Indigenous People's Cultural Park showcases the traditions of this region.
Tainan
Explore the rich history of this cultural heart of Taiwan. Founded as a Dutch colony in 1624, many old buildings remain.
Nantou
Experience the countryside and the breathtaking beauty of Nantou's Sun Moon Lake.
SAMPLE ITINERARY: Singapore & Malaysia Culture and Language Tour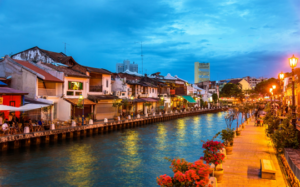 Learn about Chinese heritage within the multi-cultural diversity of Singapore and Malaysia. Immerse in the cultural heritage, stunning sights, and amazing food of this region.  Tour some of its historic locations, learn about its education system, and spend time with local students and educators.
Tour Highlights:
Singapore
Melting pot of cultures with fantastic architecture
Johor Bahru
Visit a Malaysian school and experience the local approach to education.
Melaka
Quaint small city with rich history
Kuala Lumpur
Malaysia's diverse and dynamic capital
SAMPLE ITINERARY: China History & Culture Tour
Visit some of China's most important and fascinating cities. Explore world-famous cultural and historic sites, immerse in local life, visit schools to spend time with Chinese students, and sample local cuisine. This trip allows participants to delve deeper into Chinese culture and life by making connections with Chinese students, families, and educators.
Tour Highlights:
Beijing
China's cultural center and national capital for more than 800 years. Visit the Forbidden City, Tiananmen Square, the Temple of Heaven, and the unforgettable Great Wall.
Chongqing
A major Yangtze River port and the home of "hotpot" and other spicy Sichuan dishes.
Chengdu
Home of the world-famous Giant Panda Center and a popular travel destination.
Shanghai
China's center of technology, commerce and international trade. Explore the Bund waterfront area and the City Temple with its 9 palaces.
Xi'an
The eastern departure point of the world-renowned Silk Road. Visit the tomb of the first emperor of China, guarded by over 8,000 terracotta soldiers.
International Service Learning
Travel to locations such as Malaysia for immersive service learning activities combined with fun excursions.  U.S. students interact with local students and others from diverse cultural groups for an authentic experience with the local culture. Activities range from U.S. students providing instructional support to English language learners to conservation projects.